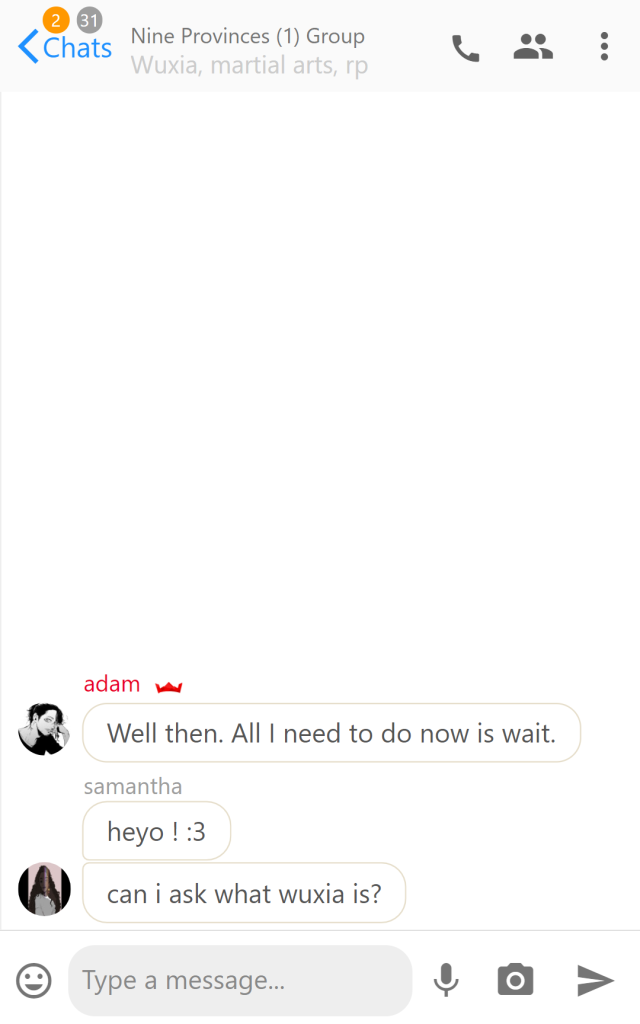 Song Shuhang was out of nowhere added to a cultivation chat group with other seniors who had chuuni illness, something he had never heard of before. The members of the group chat referred to each other as "Fellow Daoists" and had a variety of titles, such as Palace Master, Cave Lord, True Monarch, Immortal Master, etc. Even the founder's pet, who had escaped, was dubbed "monster dog." They would chat with one other with tales of pill-making, archaeology, and other fascinating topics for hours at a time.
After a bit of skulking around the chat group, he learned that not everything was as it appeared… I'm not gonna extend synopsis beyond this point because it will become a spoiler for the ones who have not read the novel yet. If you have already read it, let me tell you where you have landed.
So, this is the same chat group around which the cultivation chat novel revolves and since you have the link to join and explore it, what's keeping you waiting?
What's this novel about?
Its a tale where you won't receive your typical dosage of dream fulfilment harem and face smacking aplenty. Instead we have a narrative where farmers enjoy to play Farmville, trolling/pranking each other, snapping selfies and everything that has nothing to do with farming. 'Journey before destination'
CCG is centred on the adventures (or mishaps, to be exact) of the MC and his connection with various characters (family, friends, foes and spectators) instead of the goal to be the strongest. The MC is cultivated mostly only to seem cool, sans the traditional themes of 'a suppressed/underestimated brilliance of a lowest of the low family/school/sect seeking to show himself' or 'moving to upper realm after conquering lower realm and start from the bottom again'. ' In culture there is no first, there is no seniority in learning'
Cultivation stage is thorough and appropriately structured. Each stage has special and varied need in order to get promoted to the following step. Each level also comes with particular modifications to the body, strength and talents, rather than merely sheer strength. And more crucially, a cultivator has to master the talents and powers before being able to employ them at all. A special emphasis is placed on how the MC (sometimes together with the members of the chat group) is acquiring new skills and abilities, how to use a seemingly worthless skill and ability, or holding debates on certain subjects. There is no one that declares himself as almighty and all-knowing in the storey, even the ones that already stood on the peak of All Heavens and Myriad Realms. Learning is a continual process, and there is always someone better. 'Practical and Realistic'
The MC maintains a scrupulously neutral stance, but he does not adhere to a Yin-Yang or obsessive moral balancing act. He does what he thinks is the right thing to do. For him, there isn't much of a preference between good and evil or order and chaos. He believes that good is better than evil because he would rather have good neighbours and leaders than bad ones. But he is not personally devoted to maintaining good in any abstract or universal manner. With regards to his personal well-being, he is also concerned about others he relies on for assistance. Friends and supporters may expect him to treat them well, but any who try to harm him in any way will be dealt with harshly. He doesn't give a damn about the rest. No matter how much he doesn't want bad things to happen to people he doesn't know, he doesn't care about the bad things that do happen to them. Other people should be the ones who bear the brunt of the wickedness, not the MC and his allies. As long as the MC has the ability to depend on that ally in the future, he'll help him out when the time arises. His decision to help others will depend on the prospective advantages and risks of doing so. If an opponent is in need, he will either overlook or take advantage of the situation. 'The elder is the first to be enlightened.'
Generally, seniority is based on cultivation stage rather than age, with exceptions for acquaintances or those working in the same company (school, sect etc.). It's not as if an 800-year-old Fifth Stage is embarrassed to call a 400-year-old Sixth Stage a "senior." As a result, lines like "Junior, you dare!" and "Die, junior!" will be absent.
A hundred battles, a hundred wins if you know your adversaries and yourself well.'
In the literature, it's a major no-no to underestimate the opposition. Any action must be preceded by a thorough investigation of the target's past and reputation, even if that target appears unimportant at first glance. A conflict is a good time to check on the threat level because it is constantly changing.