Do You Know Where To Find The Most Popular Discord Servers?
The greatest places to join Discord
You will learn how to identify Discord servers using the Discord app as well as web directories, and how to distinguish the finest servers from the bad ones.
The Discord Server Search is explained here.
Online discussion forums like Discord have a lot of added bells and whistles including voice chat, system notifications, and app compatibility for PCs and mobile devices of all kinds. Every topic imaginable may be found among the hundreds of millions of Discord servers, from dating to video games and anime.
Use the built-in server search in the Discord desktop software to find public servers.
Launch the Discord computer app.
Explore Public Servers by clicking the compass-shaped Explore Public Servers icon.
If you go to the official Discord server directory, you will see a search bar at the top and a list of popular Discord servers like those for the video games Fortnite and Minecraft beneath it on the home page. To learn more about each of these communities, click on the links below.
If you enjoy a Discord server, all you have to do is click the Join button at the top of the screen to become a member. Return to the main directory by clicking the compass icon a second time.
On the left menu, you can also find more Discord servers to join by searching for a category. Gaming, music, education, science & technology, and entertainment are all included in the categories.
You can also use the search bar to look for Discord servers. If you're unsure which category your favourite topic falls under or if it's applicable to multiple categories, this can be a useful tool.
Discord servers dedicated to Star Wars video games like Star Wars Battlefront II and The Old Republic are an example of such a topic. Additionally, Disney Plus shows like The Mandalorian, Ahsoka, and Rangers of the New Republic have their own dedicated servers.
Popular Discord Servers are listed in online directories.
To find Discord servers, you can use an internet directory to search for servers in your area. Here are some of the most popular directories for Discord servers.
In addition to the traditional video gaming topics, Disboard.org has categories for learning languages and music as well as LGBT and political topics.
The DISBOARD community is a listing of Discord servers open to the public. You can look for Discord servers that share your interests, such as those related to video games, anime, music, and so on. This page has a list of great servers that you can join.
You may find thousands of servers on Discord.me, which is also a trusted source.
Locate servers from around the world using this resource! Many intriguing tags are available: anime, gaming, music, role-playing (RP), and nsfw are just a few of the categories that may be found in the catalogue. Using the list of servers provided, you may quickly locate your Discord server.

DiscordServers.com: All kinds of gaming and geek culture Discord servers can be found in this directory.
Is there a list of decent Discord servers available on this site?
MeetYou: This site is not exactly a discord servers directory but more of a discord alternative with links to many servers to join on its front page.
The 7 Best Public Discord Servers to Become a Member
Frogs live in a fantasy world. This is an emote server that is part of the Dream World network, which is run by Frogs Dream World. As a topicless Discord server, ChillZone is among the most popular…. Quantum Labs.
Discord servers with the most active members
Rank Members of the Server Name
1 Fortnite 827,000
Two Genshin Impacts have a combined impact of 800,000
2 Minecraft 800,000
2 Valorant 800,000
Searching for Discord Servers on the Internet
Many prominent Discord servers may be found by using the built-in server search or one of the above directories, but there are many more that can be found online as well.
Using social media, you may locate Discord servers. Social media sites like Twitter, Facebook, and Instagram are frequently used by businesses and individuals to promote their Discord servers.
Become a Patron and get access to unique servers.
Discord and Patreon are well-integrated, and many creators provide their Patreon backers with access to their own private Discord servers.
Use Facebook Groups to look for server information. The Discord servers of several Facebook Groups can be used by their members to connect.
Discord is the preferred platform for video game streamers. Many Twitch, YouTube Gaming, and Facebook Gaming streamers have their own Discord servers where their viewers may talk about their streams and other gaming-related topics. To see if your favourite streamer uses Discord, check out their profile page.
Feel free to join as many Discord servers as you like, so you can choose the online community that best suits your needs. In the meanwhile, if you're having trouble locating the right server, why not create a Discord server and invite people to join?
Before logging on to a public server, be aware of the following:
Why does everyone ignore you on Discord?
This question has been answered at the bottom of this page, if you wish to read it you can skip all the paragraphs and scroll straight to the bottom of this page. However, if you read the whole page, you're going to master all the discord skills today, champ!
Is Discord a safe app?
No, it's not a safe app.
There are concerns about the safety of Discord. Discord may be used safely with the correct privacy settings and monitoring. There is, however, a risk when it comes to open-chat websites and apps. Using Discord safely means only accepting friend requests from people you already know, and only joining private servers.
Specifically, I'm looking for the public Discord server I set up.
Use the built-in server search in the Discord desktop software to find public servers.
Launch the Discord computer app.
Explore Public Servers by clicking the compass-shaped Explore Public Servers icon.
What are some of the best Discord servers?
The Ultimate Guide to the Best Chill Discord Servers
As a server, Aura is one of the most enjoyable to work with….
Cloud 9 has a great vibe and is a great place to hang out!
Anime Espresso is an aesthetically pleasing and welcoming server with a thriving fanbase.
How many Discord servers are you able to join?
Discord's 100-server cap (2018-2021).
Discord servers with more than a million users are not uncommon.
Is it even able to perform its intended function? In a first for Discord, the official Snowsgiving server has surpassed 1 million members. A million users is a significant number, but none of the top-performing public servers on Discord for certain games or personalities has hit that mark as of yet.
Which Discord is the largest of all?

What is it? Fortnite's official Discord server is the world's largest at the moment. Join the group to talk about the wildly popular online game and find out about the game's frequent special DLC and contest offerings. To join a team or participate in a scrim, gamers show up.
Is Discord used by adults?

Why? To put it another way, Discord is not a kid-friendly app. First and foremost, Discord is a social networking service for adults, even if anyone over the age of 13 can download it for free. Hate groups are technically barred from using the app.
With no one to invite me, how do I get into a Discord server

Open Discord on your desktop, choose "Explore Public Servers," "Find a Server," and then "Join." Using Discord's "Explore Public Servers" option is the first step to joining a Discord server without an invite. Anyone can join the public Discord servers listed under the "Explore Public Servers" option.
What's the best way to join some Discord servers?
If you need to, log into your Discord account.
In the left-hand sidebar, click the + sign….
"Join a server" should be selected.
It's as simple as clicking "Join."…
The three stacked lines in the upper-left corner of the screen can be tapped….
In the server menu, select the "+" sign….
"Join a server" can be tapped.
How do I build a great Discord server?
Make sure the "Owner" isn't separated from other members in the sidebar.
Use no "levels" or 'exp' systems….
Moderators should be limited to the number required for the server….
No advertising to random people or on random servers, nor rewarding them for inviting their friends.
Make a list of the reasons why you'd like to join the server.
Is it possible to get rid of my Discord account?

Disabling your account on both iOS and Android devices is not as simple as it is on a computer. Disabling or deleting your account on a mobile device is currently impossible… You can open the Discord app on your phone or other mobile device to begin. To access User Settings, go to the bottom-right profile symbol and select My Account.
Is it possible for a Discord server to be oversubscribed?

It's impossible for Discord servers to get overloaded.
How large can a Discord server be?

One server can have up to 500,000 users, however it must be contacted for more server capacity if more than 25,000 people are online at the same time. A server can have a maximum of 50 categories and a total of 500 channels.
What is the most popular Discord bot in terms of popularity?
MEE6 Custom Python 3 Groovy JDA, Discord4J 4 Dank 1 Rythm JDA 2 MEE6 Memer Eris
How can I join Discord Nitro?
Nitro & Nitro Classic registration is also a breeze. Locate the Discord Nitro tab on your User Settings page. In order to use Nitro, you only need to click on the Subscribe button and choose either the monthly or annual plan. If you go down to the bottom of the Discord Nitro User Settings page, you'll be able to subscribe to Nitro Classic.
How many servers of Discord are there?
On Discord, there are currently 6.7 million servers in use, with an increasing percentage of them not being gaming-related. In order to compete with Slack and Microsoft Teams Discord has attempted to diversify its audience. Despite this, Discord is still primarily used by gamers. Controversy has erupted about the possibility to construct private servers that are unmonitored.
Obtaining free Nitro in Discord is a bit of a challenge.
Free Nitro upgrades are given to owners of partnered Discord servers. It is required that your server have at least 500 users, be at least 8 weeks old, and be considered a good environment with no incorrect language to apply for partnership.
Discord is Toxic? But for what reasons?
Many in the online community have learned to blend in with the crowd in order to stay alive. Without a mod that acts as a parent, the server descends into toxicity, culminating in the social media trolls we see now.
Does Discord allow parents to monitor their children?
Bark is a great tool for parents to use to keep an eye on their children's online activities. Bark is a text conversation monitoring app for Android and Amazon devices that warns parents to potential problems such as cyberbullying, depression, suicide ideation, violence threats, and more.
Discord vs. Zoom: Which one is better?
Summarily Discord or Zoom? Discord is a great programme if you need to communicate via video or audio. You can speak more professionally using Zoom's wide range of capabilities because it's designed for the corporate world and conferences.
Will Discord let me make a free server?
Creating a Discord server is completely free. In this way, you can host your own server and share it with others.
How do I list my own Discord servers?
Using Ctrl+K, you can search through channels and users. You can use the search bar to search through channels.
What is a Discordian relationship?
It seems to me that "discord relationships" refers to a long-distance relationship between two persons who communicate via discord. It's not a problem for me. I've met quite a few couples who are now married or living together after meeting online, either through gaming or some other manner.
Does Discord allow trolling?
The following actions should be prohibited in addition to those outlined by Discord's rules and guidelines: Disruption of the chat, making a nuisance out of yourself, purposefully making people uncomfortable, or otherwise seeking to stir trouble is known as trolling.
Discord's NSFW setting isn't clear to me.
Internet abbreviation NSFW stands for "not safe for work," and it's used to describe content that is not appropriate for work. It is common for NSFW to serve as a content warning, asking the viewer to exercise caution if they are in a professional or public situation and to avoid the post or image.
Any age limits for the servers on Discord?
Discord's Community Guidelines mandate that all pornographic content be posted behind an NSFW gate. An NSFW gate allows server operators to designate specific channels as 18+ only. An NSFW server designation can now be used to classify entire servers as 18+.
Is there a dating component to Discord?
Discord is not a dating service, so dating servers aren't viewed as highly as they should be.
Is dating on Discord a good idea?
Discord dating servers are a terrific place to meet like-minded people, whether you're looking for love or just want to practise your social skills. To avoid being banned from one of these closely monitored servers, always remember to treat others with respect.
What are the rules for dating on Discord?
For dating servers, Discord does not have an age verification mechanism, even though it asks users to confirm their age before joining channels and servers marked as NSFW. When it comes to servers that facilitate teen dating, "we do not allow them on our platform,"
What is a Discord Raider, exactly?
When a large number of players join a server with the explicit purpose of disrupting it, it's known as a "raid." These accounts are called "raiders" because they engage in this type of conduct. The term "Alt" refers to a Discord user's spare or "throwaway" account. This is a violation of Discord's Terms of Service.
Is Doxxing permitted in Discord?
Doxxers have no place on the internet or in Discord. When a person is unable to take retribution in the real world, they resort to doxxing.
Is Discord being used by teachers?
Work, entertainment, and education servers are available. In the spring of 2020, classroom Discord servers were developed to satisfy the needs of teachers who wanted to meet their pupils where they were already congregating: online, conversing with friends. A growing number of educators have begun to see Discord as a place where they may both socialise and learn.
Why is Zoom being used instead of Discord by educators?
Zoom has established itself as a user-friendly platform that is both easy to use and accessible. Additionally, parents will be expected to set everything up for young children who aren't familiar with Discord. As a rule of thumb, adults are more likely to have had some experience with Zoom than Discord.
Is Discord used by any schools?
Discord may be used by some schools, but it's more probable that they'll utilise a conferencing system specifically designed for educational institutions or businesses. Zoom, GoToMeeting, WebEx, and other similar services are available.
Is it possible that Discord is a dark net?
The darknet community has found a new home in Discord, a communication tool. Discord is a multi-media chat app that was originally developed for gamers and now serves a wide range of users (to the tune of 25 billion messages per month).
Can someone tell me how to delete my Discord account?
Disable your Discord account every day if you don't want to use it. When you're ready to use it again, simply reactivate it.
My addiction to Discord is getting out of hand.
Scheduling time to play with your online buddies while also making sure you get enough sleep for work and spending time with your family or SO should be a priority. Having a calendar of upcoming events and intentionally carving out time to perform additional activities you enjoy are both easier with a schedule in place.
Discord gifts aren't a hoax.
But there are no links you should click on. You don't need to visit links to accept a real discord nitro gift. In the image of the "actual" one, you should be able to receive presents through the specific embed that is provided.
On Discord, are bots free?
You can utilise bot commands from your server once you've added Discord bots. Using any of these great Discord bots is completely free; however, some offer paid upgrades for further functionality.
How does OwO bot do its thing?
OwO is a game in which players acquire animals and then fight each other to the death. OwO Bot will ask you to read and accept its rules when you run a command for the first time.
What's up with the pixelated PfPs on Discord?
Using the Discord mobile app causes your pfp on Discord to appear blurry. Discord's mobile app has a bug that is causing this. A profile image that isn't clearly viewable on Discord will not look nice.
Is Discord a better alternative to Skype than Skype is?
When it comes to group calls, Skype beats Discord hands down because it's better and more commonly used. The ability to call other phone numbers, such as landlines, is also available on Skype, however Discord restricts calls to only those to other Discord users. In the end, Skype comes out on top when it comes to group calls.
On Discord, can you earn money?
Members can simply enter "donate" in chat to demonstrate their appreciation for a server. This is followed by a page where you may select the role you want to play and pay for it using PayPal. Finally, server owners may monetize their assets in a straightforward manner.
How old do you think you should be to join Discord?
Very small children should not use this platform.
It is imperative that Discord be labelled as exclusively for individuals over the age of 18 due to the presence of adult content. Openers of the channel will see a message informing them that the channel may contain explicit material and requesting confirmation that they are at least 18 years old.
Is there a maximum number of friends that may be added to a Discord channel?
Conversation. Each user is limited to a maximum of 1000 friends and requests at a time.
Is it possible for a Discord server to have more than one million users?
Servers with more than 100,000 or 250,000 users must submit formal requests to Discord for an increase in the member cap. Currently, the server has 1.18 million users, making it the largest ever. If the server is genuinely viable, however, that's a very different matter all together.
When was my Discord account first created?
In what ways can I find out how old my Discord account is?
How to see who else is on Discord?
Right-click on the user's name in the Discord right sidebar and select 'Copy ID' from the context menu.
A copy of your Discord ID will now be available for you to take note of.
Use the Discord Lookup feature to find people on the network.
Using the ID field, type in the ID and press the "Lookup" button.
Do you know what age group is best suited for Discord?
Unless local regulation specifies a higher age, Discord is available to users of all ages. We are currently working on implementing a gate that asks users to confirm their date of birth when they sign up for an account.
The link to the Discord server I want to join has expired.
To join a Discord server whose link has expired, you'll need to contact the server owner and request a new one. Keep in mind to ask them to remove the expiration date from the invite link by changing it to "Never Expire."
Without an account, can you join a Discord server?
When you click on a server link, you can join discord without an account, but it's only for a short period of time.
No, I don't know how to use it.
I like to think of it as my own little online community. An invitation-only event. You are given a URL to join, and suddenly you're in, like a secret club.
What is Discord used for by guys?
On the phone or in some sort of discussion group, perhaps with some of his gaming or social pals. A discord server created by a group of pals could be useful. Among gamers, Discord has become a popular platform. The group think tank could be an alternative use for him if he does not like video games.
Is it safe to meet people on Discord?
Discord is a great place to meet new people, but you should always put your own safety first. Making friends is generally safe, unless you're under the age of 5, and you can usually tell right away if the person you're attempting to befriend is dangerous.
Do you know how to get people to join your Discord server the quickest?
Help get the news out by spreading the word. People with a large number of friends can simply direct them to your Discord server and invite them to join. Ask them to spread the word to their friends, family, and loved ones as well. Make use of this strategy if you need it!
Is it possible to purchase a member's access to Discord?
Online, you can locate a reputable Discord member provider. Invite them to your Discord server by sending them a link. You can pay your server members with a credit card, PayPal, or cryptocurrencies.
Why aren't any people joining my Discord channel?
It's highly likely that just a small percentage of those you invite will actually join because many don't even have Discord installed, and even among those who do, many may assume that the server is inactive.
When I don't have an invite to join a Discord server, how do I do so?
Select "Explore Public Servers" on the Discord desktop app, then "Search for a server" to find one to join. Using Discord's "Explore Public Servers" option is the first step to joining a Discord server without an invite. Explore Public Servers displays a list of publicly accessible Discord servers.
Do you have any ideas on how I might expand my discord server?
5 Ways to Increase the Number of Members on Your Discord Server
Participate in local affairs.
Make your server's focus on a topic that most users enjoy….
Server listing websites and other discord servers can be used to promote your servers.
Help to get the word out.
Advertise Your Server is a great place to do that.
What are fake Discord invites?
When the same person joins the server using your invite many times, the invite tracker flags it as a false invitation.
Are Discord servers available for purchase?
Technically, selling a server involves selling their content without their permission. Created a community on the Discord platform by employing their services. Technically, selling a server involves selling their content without their permission.
Is buying a Discord server an option?
It's safe to purchase Discord members, and it won't harm your Discord server. If you delete the accounts of those bogus people, nothing will happen to your server.
How can you increase the size of the Discord community?
In order to increase the number of individuals who join your Discord server, make it more entertaining. Create and host events such as Minecraft Server Night or Movie Night, for example. If you're a YouTuber, you might also consider hosting chats and Q&A sessions, as many viewers are curious to learn more about what you do.
Can you walk me through the steps of setting up a Discord server?
In order to set up your own server, launch the Discord app and sign up if you don't already have an account. Then, on the left-hand side of the screen, click the + sign in a circle in the server selection column. From the menu on the left, select "Create a Server.".
Exactly how can I get my Discord server up and running?
You can also advertise your server on the listings, which will bring additional players to your server.. Increase the number of players on your server while also showcasing it to the rest of the world. The more people who join, the more active the server will be in the long run.
Free Nitro is a great deal, but is it safe to use?
Caution: Free Discord Nitro codes are not to be trusted from any source or person. In order to steal your bank or credit card information, they're entirely bogus. You can't get Discord Nitro codes from a generator!
Could it be done?
It's free for owners of Discord servers that are part of the Partner Program. Enter the Partner Program by clicking on the Partner Program button in the sidebar of your Discord server.
Is Nitro available for free on Steam?
A new phishing scam promises a free month of Discord Nitro, which is worth $9.99, in exchange for your Steam login details.
A Discord server is full, can I still join it anyway?
Following these instructions will help you join a full discord.
You can expand the left-hand sidebar by clicking on the + icon.
Choose "Join a server."
"Join" a group by copying and pasting the invite URL.
The three stacked lines in the upper-left corner of the screen must be tapped in order to proceed.
Server menu: Select the "+" symbol.
Click "Join a server."
Tap "Join" to accept the invitation.
Why does nobody give me attention on Discord?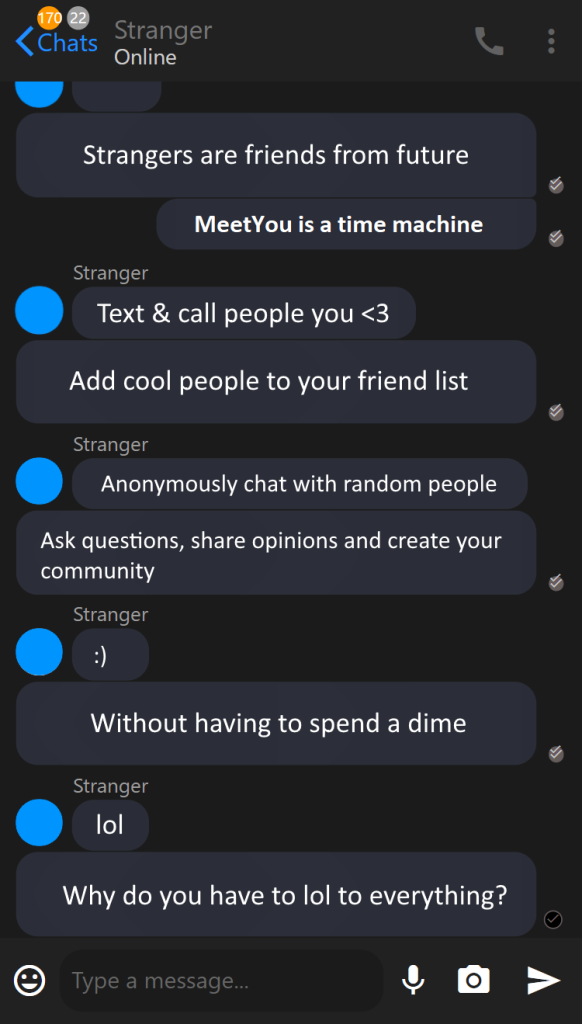 Scroll way up to the top of this page and click the Start button because you deserve better. A place with real people who really care, your friends-to-be are waiting for you on MeetYou. Get started without registration.